ABOUT US
The increasing quantity and variety of data collected by companies presents unique data challenges. A clear strategy is needed to take advantage of the business value hidden in this data. This is where Ariel Analytics can help. We specialize in data science and analytics strategy for a variety of business needs including optimizing investment decisions, resource allocation and utilization; quality improvement; and workforce planning and management.
Our data strategy solutions focus on identifying which data is most important for your business needs and creating a plan to ensure it is reliable, consistent, accessible, secure, and available when you need it. Our data analytics and data science solutions can help you derive key strategic insights from data.
/ OUR MISSION /
We enable companies to better understand, manage and plan operations by improving their data strategy and data insights.
Our clients come to us from a variety of industries. As a small company we provide specialized data analytics expertise and personalized attention to guide our clients in accessing the power of their data and their people to make better business decisions.
Large and Medium Companies: We work with companies that are modernizing their operations by taking advantage of data analytics to capitalize on stockpiles of internal data. We enable these companies to improve profitability and productivity through better data strategy and analytics. We also help them tap into the potential of their people by providing customized executive data analytics training and coaching to compound their analytics investment.
Small Companies + Researchers: We partner with small companies and researchers on projects that have a strong analytics component and manage, conduct, or advise on the data analytics work.
/ OUR VISION /
Connecting data by connecting people and understanding process at all levels. This presents a unique opportunity to create a more connected, transparent, and better functioning workplace.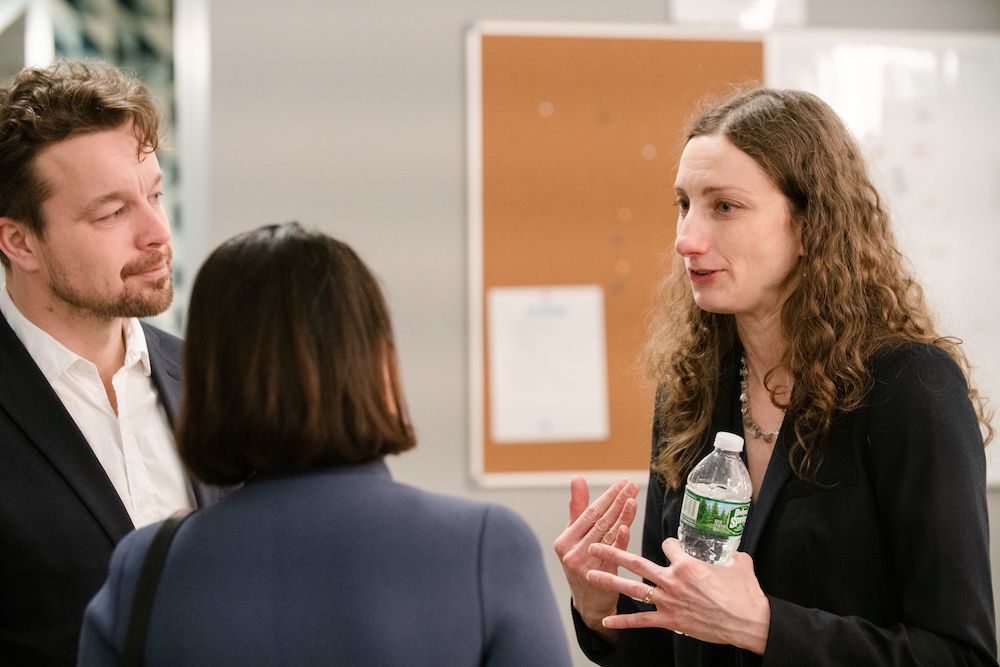 Our focus on people is what sets us apart. We specialize in data strategy and analytics, but we know that people are at the core of your business and we excel at bringing people together from all levels of an organization to understand and solve business problems. We connect data silos and bridge the gap between more and less technical teams to maximize information flow and discover business insights. We combine this approach with our deep technology, analytics, and operations expertise to get to the core of a problem and develop solutions that work for your company.
STACEY SCHWARCZ. My goal in life is to create order from chaos, from corporate data to physical spaces. As a data scientist and strategist I excel at bringing people together to understand the processes that create data, get better insights from data, and solve business problems.
I have over 10 years of experience in analytics and operations in both the public and private sector. I have worked in a variety of industries including financial services, management consulting, engineering, and transportation. I built an analytics function and managed a data science team for a Fortune 500 company and I've held several senior operations management and strategy roles.
Over the course of my career I've become intimately familiar with the impact of poor data strategy around corporate data and operational systems and the data wilderness this creates. I founded Ariel Analytics to guide companies in developing and adopting better data strategy so that they can maximize the value of their data in a cost effective and systematic manner.
I hold graduate degrees in engineering and data analytics from the Massachusetts Institute of Technology (MIT) and City University of New York (CUNY). Connect with me on LinkedIn
THE NAME BEHIND THE COMPANY
The inspiration behind our name is our Founder and CEO, Stacey Schwarcz's beagle mix, Ariel. Ariel is an avid hiker and a certified therapy dog who loves to visit the local nursing home and make people happy. She has persevered through many challenges in life (including being in a shelter and having knee surgery) and is an inspiration to all who meet her. I wish I could say that she's a great guide though the wilderness, but while she has a fantastic memory and is a great communicator, search and rescue is not her calling.
READY TO GET STARTED? Let's Go! Fill out our contact form below…